Home Health Nursing Careers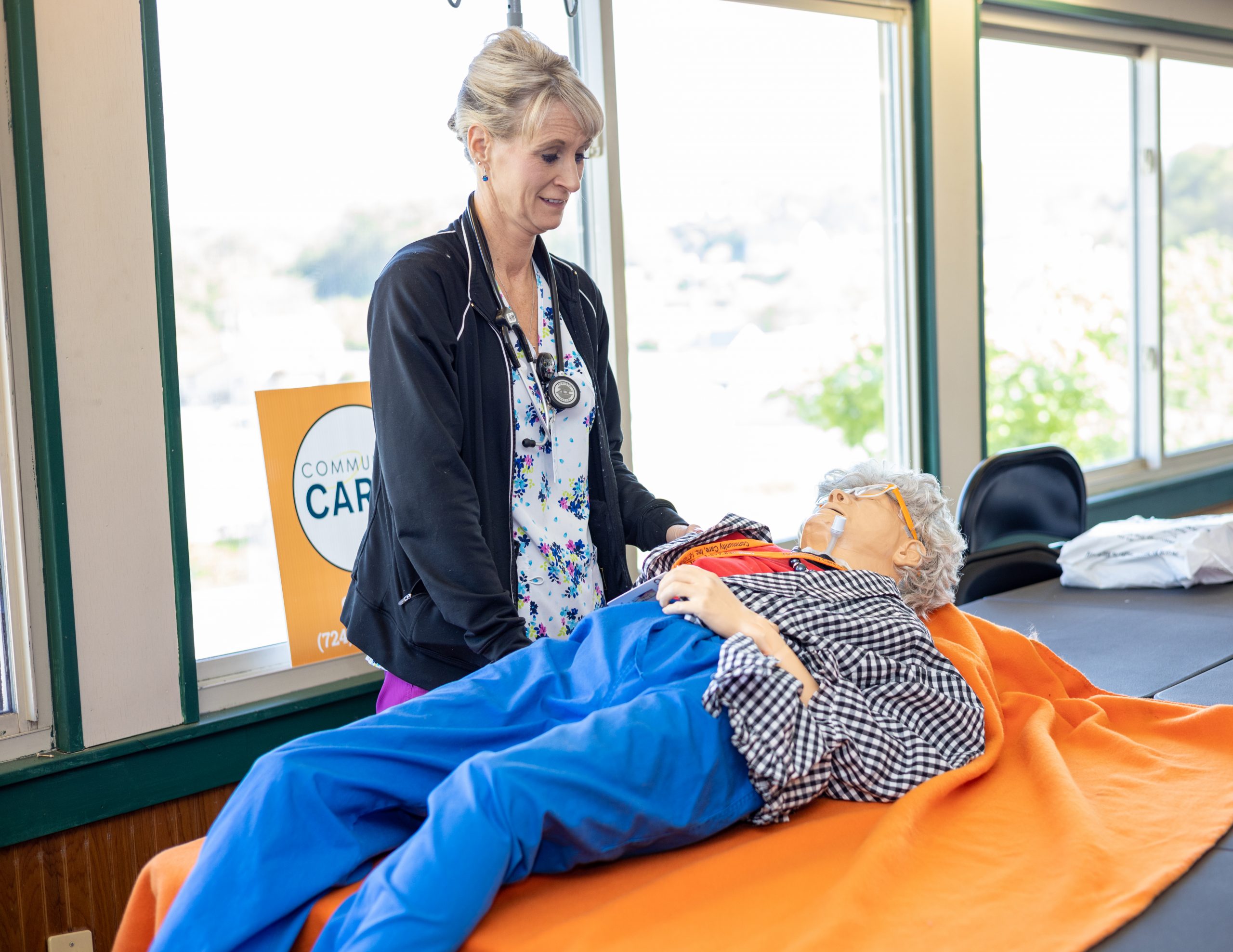 Our home health nurses work with multiple clients one-on-one in their homes throughout the day. With clients with a variety of different needs, this position is great for someone who wants variety in their work. The Home Health Nurse mainly works daylight hours with adult clients, independently and with a team.
Position Overview: The Home Health Nurse maintains standards of professional nursing practice in the home care setting under the direction of the Director of Professional Services. They are responsible for assessing and providing care within the scope of their educational preparation and knowledge; permitted by the policies and procedures of Community Care, Inc., referral source, local, state, and federal guideline. 
Note: While the job description below is aimed at Registered Nurses (RNs), we do hire Licensed Practical Nurses (LPNs) for similar roles.
Essential Functions (may vary by client)
Responsible for providing nursing care through all phases of care, taking into consideration age and developmental needs.
Collaborate and support plan of care (POC) as determined by the physician and health care team; treat patients accordingly as approved by physician. Performs periodic re-evaluation of the patient as necessary and make adjustments in the patient's treatment program.
Provide treatment to patients per protocol, utilize OASIS assessment and documentation.
Perform ongoing periodic system assessment and data collection in a systematic manner focusing on: psychological, psychosocial, cultural, spiritual, and cognitive status; nutrition, pain, patient and family education, family involvement and patient advocacy, patient and patient's equipment and supply needs.
Facilitates timely discharge based goals and in accordance with client policies and procedures.
Educates and instructs the patient, patient's family, caregivers, and other staff as required.
Counsels the patient and family in meeting nursing and related needs.
Supervises and teaches LPN's and HHA's as required for patient care according to the law and regulations.
Documents all care, intervention, and care coordination per law, regulations, and agency policy.
Notifies patient's physician and responsible staff of significant changes in condition in a timely manner.
Coordinates all services provided. Consults with other health care professionals involved in patient's care as needed.
Effectively plans, organizes, sets priorities and completes assignments with minimum direct supervision per agency policies within established time frames.
Accepts only assignments for which you are qualified.
Verbalizes knowledge and purpose of patient rights and responsibilities.
Complies with Community Care policies and procedures.
Minimum Requirements
Education: Graduate of an accredited School of Nursing.
Licensed to practice as a Registered Nurse with active licenses in the state of PA.
Maintenance of a current CPR or Basic Cardio Support for healthcare workers.
Complies with Infection Control, Standard Precautions, and OSHA Standards for healthcare professionals.
Educate on and compliant with HIPAA regulations, maintains strict confidentiality of client information.
Able to wear personal protective equipment (PPE) (e.g. face mask, goggles, latex/non latex gloves) as needed.
Ability to work effectively within role independently and with other team members.
Ability to organize and complete work in a timely manner.